St. Anthony Health & Rehabilitation Named Best Nursing Home for 2018-19 by U.S. News
New Short-Stay Rehabilitation rating includes more emphasis on quality of care.
ST. ANTHONY, Minn. (Dec. 3, 2018) – St. Anthony Health & Rehabilitation, a skilled nursing community located in St. Anthony, Minn., has been recognized as a Best Nursing Home 2018-19 by U.S. News and World Report, the global authority in health care rankings, available at www.usnews.com/best-nursing-homes.
For the 2018-19 ratings, U.S. News evaluated more than 15,000 homes nationwide and assigned two separate ratings: an Overall rating and a new Short-Stay Rehabilitation rating. Communities were considered Best Nursing Homes if they were rated high performing in either the overall or short-stay rehabilitation rating AND average or higher in the other rating. St. Anthony Health & Rehabilitation received high performing for Short-Stay Rehabilitation.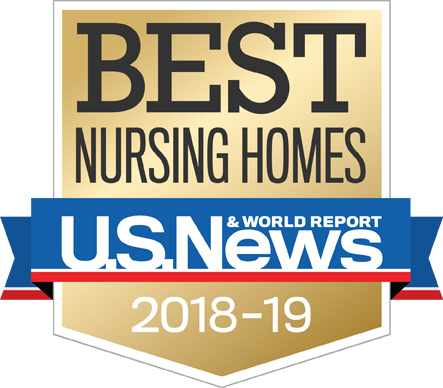 The Overall rating evaluates the care of a wide range of resident in the nursing home, including both long-term residents with chronic needs and short-term patients who receive rehabilitation following a hospital stay. The newly introduced Short-Stay Rehabilitation rating designates nursing homes as high-performing, average, or below average in the care they provide to patients staying at the community for less than 100 days, and is based on nine quality measures focusing on staffing, outcomes, resident complaints and processes of care. It aims to provide patients with a clearer view of the quality of care provided by nursing homes to short-stay patients in need of intensive rehabilitation or nursing services before they return home after a surgery, stroke, accident or illness.
"Several million Americans will spend at least some time in a nursing home this year, whether undergoing rehab after a hospital stay or as long-term residents," said Brian Kelly, editor and chief content officer of U.S. News. "Finding a nursing home that meets an individual's specific needs can be overwhelming. The Best Nursing Home ratings are designed to help potential residents and their families navigate this important decision."
To evaluate these homes, U.S. News drew on data from the Nursing Home Compare, a program run by the Centers for Medicare & Medicaid Services (CMS), the federal agency that assesses nursing homes in nurse staffing, health inspection and quality measures. In addition to these measures, nursing homes were assessed on whether they had a patient-centered or billing-centered pattern in the number of minutes of therapy certain high-needs patients received. The consistency of their reported nurse staffing figures across assessment-based and payroll-based reporting systems was also a factor in the ratings.
For more information, contact St. Anthony Health & Rehabilitation at 612-788-9673.
SOURCE: U.S. NEWS & WORLD REPORT
---