St. Anthony Health & Rehabilitation Supercentenarian, Turns 111 Years Old
Oldest currently living Minnesota citizen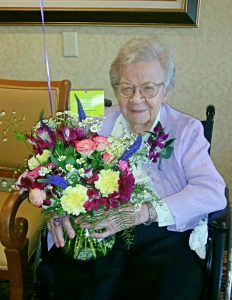 Supercentenarian Evelyn Kleine is seen as she celebrates her 110th birthday with family and friends at Chandler Place in St. Anthony, July 11, 2017.
ANTHONY, Minn. (July 5, 2018) ─ Evelyn Kleine, who has lived at St. Anthony Health & Rehabilitation for 8 years, will be the oldest citizen living in Minnesota as she reaches her 111th birthday on Tues., July 11. Last year, Evelyn became a supercentenarian, someone who has lived to or passed their 110th birthday.
According to Robert D. Young, Director of the Gerontology Research Group, Evelyn is currently the oldest-known living person in Minnesota. In U.S. records, only 1 in 5 million people reach supercentenarian status. When asked about her upcoming birthday, Evelyn chuckled, "Wow, I'm Old!" Evelyn's milestone birthday will be celebrated with a special "Super Golden" event for family members and residents on Wed., July 11 from 1:30 – 2:30 p.m. in the dining room of St. Anthony Health & Rehabilitation's sister community, Chandler Place, at 3701 Chandler Drive. St. Anthony, Minn. 55421.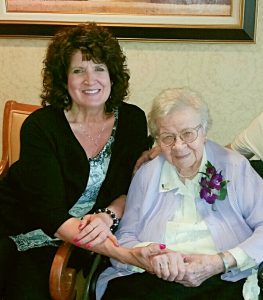 Evelyn is pictured with her great niece, Joanie, during Evelyn's 110th birthday celebration
Evelyn is not the only long-lived member in her family. Her father was 96 and her grandfather was 94 years old when they passed. Evelyn shared her secret to a long life, "I didn't dance. Well, maybe I danced once or twice. But, I never drank or smoked." She also suggests, "Take everything a day at a time."
Evelyn's great niece, Joanie Anderson, says, "My great Aunt Evelyn is such a remarkable lady and, I feel, quite an inspiration to all of us." Anderson often reminisces on Evelyn's monumental memories over the decades, such as driving the family's Model T Ford at 16 years-old. "She continued to drive until the age of 99, when she says her car gave out before she did!"
---